COVID-19 Protection Framework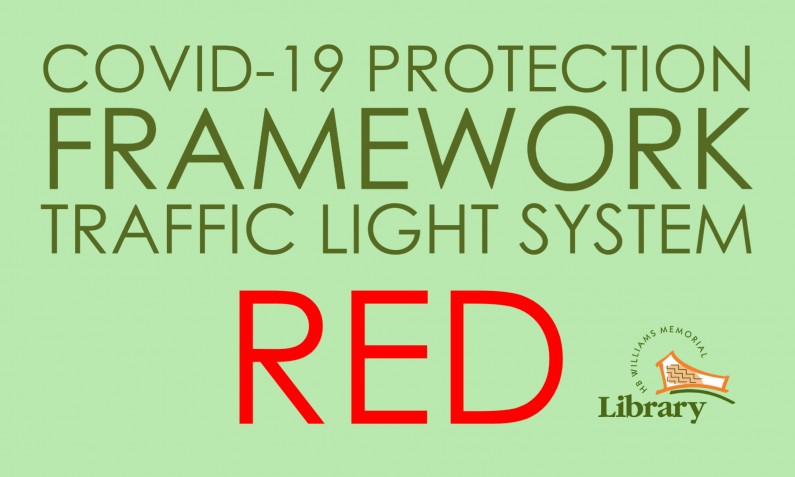 From Friday 3 December
2021
under COVID-19 Protection Framework - Traffic Light System
RED
,
a
vaccine pass is required to enter Gisborne District Council facilities.
You must wear a face covering
and
scan/sign in
when visiting the library.
The number of visitors who can be in the library has been increased to 100.
The time limit in the library has increased to
one hour
to allow more time for
study, book selection and use of the public computers.
However, we will operate a 'one-in, one-out' policy once capacity is reached. We therefore ask you kindly not to linger once you have completed your business in the library.
Enter and exit via Bright Street entrance
.
Things to note:
Library services are still available to all members of the community, access may look slightly different. Our full collection is available to search and view via

www.gpl.govt.nz

and titles can be reserved for contactless collection.

The Research area and the Mairerangi Flexispace on level 1 (upstairs) are open.

Newspapers will be available in the Research area on level 1 (upstairs).

The number of available computers will return to full capacity.

Meeting rooms remain unavailable for booking.

JP Services are unavailable, you may contact a JP directly via

www.yellow.co.nz/gisborne-area/justices-of-the-peace
Entering the library:
Face covering on.

Have your Vaccine Pass ready.

Scan in using the COVID Tracer App, or sign in manually with your library card.
Once you are in the library:
Be kind.

Use hand sanitiser.

Keep your face covering on at all times whilst you are in the library.

No food or drinks may be consumed in the library.

Stay in your bubble, and please do not leave children unattended.

Return books. You may also use the return slot in the Bright Street car park.

Select and issue books, DVDs, CDs and talking books.

Pick a Grab a Bag chosen by a librarian (don't forget to issue them at a kiosk).

Pick up your reserved items.

Sign up for membership. This process can be started at home via

Library Membership

Use one of the two available self-issue kiosks to issue books, located at both ends of the library.
From home:
A big thank you from our team to everyone for playing your part in keeping our community safe.