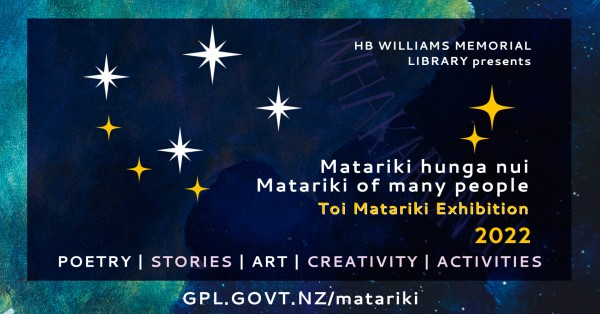 CALL FOR ART
Here at the HB Williams Memorial Library, we are getting really excited about Matariki 2022 and all the fun activities that will be going on in our community to celebrate and reflect.
We are busy planning some awesome events and we need your help.
Curation has begun for Toi Matariki | Exhibition 2022 - a collection of creative reflections from our community.
This year's theme is Matariki hunga nui | Matariki of many people with a focus on telling our stories and working together.
Please think creatively, any artistic medium goes. Within reason ;)
Ideas for creations:
Art works on Paper or Card

Photography (Digital or Print)

A Poem or Song

Something theatrical or a TV Episode perhaps

Music

A Story

An Installation

Dance
Space is limited, so we would love to hear what you are planning to allow us to allocate the appropriate space for your creations! (proposal form link below)
The exhibition will open on Friday June 17 in conjunction with Matariki opening events and continue through the week of Matariki Celebrations and through to the winter school holidays to give whanau and friends a good opportunity to see the wondrous Matariki inspired creations. (Friday JUNE 17 – Saturday 23 July 2022)
Submissions are welcome from all residents of Tairawhiti.
You may Participate as:
An individual

A whanau, family or friend group

A Class or Syndicate

School/Kura

Workplace

Community Group

Other
Prizes for:
Individual with age groups including grown ups

School

Group

Other

Community/ Popular vote
Performance pieces:
Recorded and sent in so we can put on the electronic display in Papatipu, the Young Adults area.

A time organized with library staff to present to the public.
Prizes will be awarded for submissions that show examples of epic storytelling, awesome creativity, and exceptional mahi tahi.
Please send through your proposal by Friday the 27th of May although, the sooner the better.
Once your proposal has been approved by our team, we will need to receive your Mahi by no later than Friday the 10th of June.
Please note: HB Williams Memorial Library will endeavor to take all due care and precautions relating to the safety of your art works. However, the library can only receive and exhibit artwork on condition that neither the library nor the staff shall be liable for any loss or damage of the artwork while on display at the library.
Important dates:
Exhibition Dates: Friday June 17th - Saturday July 23rd 2022
Proposals due: Friday the 27th of May
Please send questions to gpl.govt.nz/matariki-questions