JP service now available at library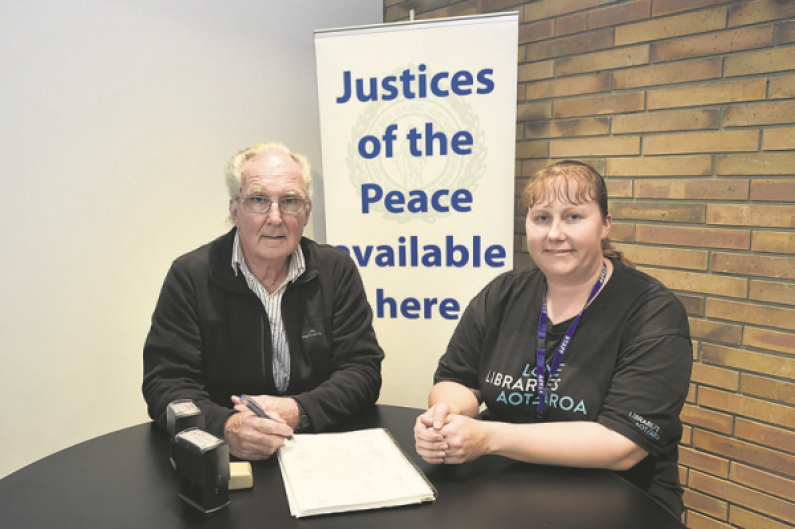 HB Williams Memorial Library is offering a JP in-house between 9am and 11am every Thursday. The first session last week saw librarian Anna Williamson's JP father, Peter Williamson kept busy. People were waiting for him before the library opened. The Williamsons are pictured in the Tautoru Orion room, which seats four to five people and is one of seven differently-sized breakout or study rooms at the library. Picture by Paul Rickard
JP Service now available at library
Story in the Gisborne Herald, published May 10, 2018 by Sophie Rishworth
It can be a big hassle trying to organise a Justice of the Peace when official pieces of paper need to be witnessed and signed.
The refurbished HB Williams Memorial Library is now helping to ease that problem with a new service available in-house every Thursday between 9am and 11am.
A JP will be there to sign those papers free of charge.
HB Williams cultural activities manager Pene Walsh said they had had positive feedback about this new service.
"A partnership between HB Williams Memorial Library and Justices of the Peace is one that many local people and visiting seasonal workers took to the moment word was out that a JP would be on site at the library every Thursday morning."
"We knew the service would be appreciated and we had been waiting for the upgraded library to be built before implementing the partnership because it is important that privacy is maintained for people needing a JP's confidence.
Ms Walsh said the JPs were pleased with the library meeting room location, particularly the free Wi-Fi available.
They might look at extending the hours to late night Tuesday or Saturday mornings, she said.
"They will monitor how the library service is used and decide from there."
JPs are also available at the courthouse from 9am to 11am Monday to Friday.