HB back on public library wall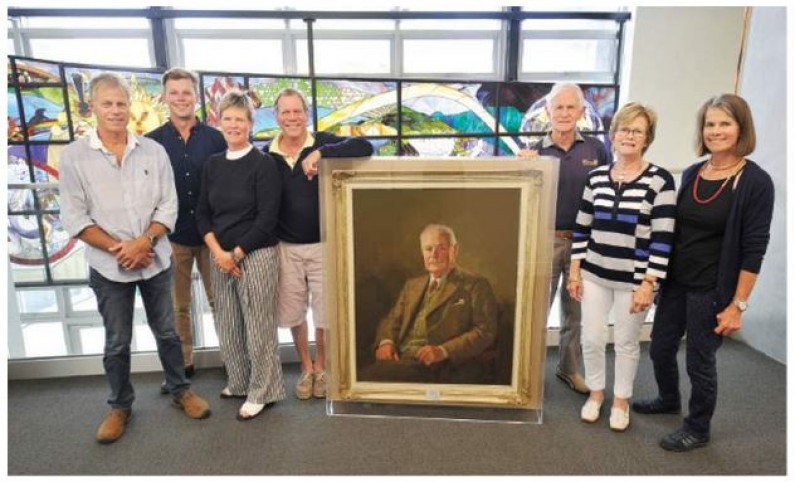 BACK WHERE HE BELONGS: Descendants of HB Williams return his restored portrait to the HB Williams Memorial Library. "It is only fitting for him to be residing here," said grandson Marcus Williams. From left are David Williams, Matthew Chrisp, Amanda Chrisp, Hamish Williams, Marcus Williams, Susan Kemp and Phillida Eivers. Picture by Liam Clayton
Story in the Gisborne Herald, published November 25, 2019 by Matai o'Connor
A restored and protected portrait of Heathcoate Beetham (HB) Williams has been returned to the Gisborne library named after him.

Six of Williams' descendants walked the portrait back to the HB Williams Memorial Library

They were grandchildren David Williams, Amanda Chrisp, Hamish Williams, Marcus Williams, Susan Kemp and Phillida Eivers, and great-grandson Matthew Chrisp.

"We think it is an integral part of the library complex," said Marcus Williams.

"The library was given by the family in his memory so it is only fitting for him to be residing here.

"To me it's a miracle the portrait survived with very little damage as it was at finger level.

"It's appropriate for us to find somewhere in the expanded library for him to be," Mr Williams said.

The portrait has been situated upstairs across from the inanahi ki tenei whakatipuranga stained glass window artwork.

It used to be in the entranceway alongside Muru Walters' carved male and female forms.

The Williams portrait was painted by Australian Sir William Dargie, an official war artist during World War 2.

"It is not known what an Australian artist and an East Coast New Zealand farmer had in common but at some point their lives collided," Gisborne District Council cultural activities manager Pene Walsh said.

"Australian captain Sir William Dargie was an official war artist during World War 2.

"He is known for painting several portraits of Queen Elizabeth II, winning the Archibald Prize (Australia's premier award for portrait artists) eight times and undertaking dozens of commissioned portraits.

"Sir William wrote that he spent a good part of his life making pictures more or less for his own pleasure," said Ms Walsh.

"While HB himself has been gone for nearly 60 years, his portrait looks smart, lustrous and as good as the time it was originally painted."